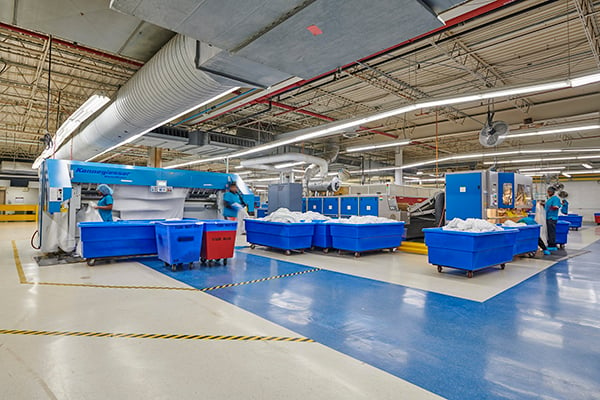 Goodwill Laundry & Linen Services is a non-profit, HLAC accredited operation, which means you'll benefit from our high-quality standards and our philosophy of continuous process improvement.
Strategic Partner
When you partner with Goodwill, our team of experienced laundry professionals will work together with you to provide customized services that meet your needs. We take pride in serving hospitals and clinics – providing clean linen when and where it's needed – so our customers can focus on patient care.
Mission
Our partners can feel good knowing that the business they provide to Goodwill is providing important services in the community. Your support enables our mission to impact thousands of lives each year. The revenue generated from our laundry business is used to fund our mission that provides training, employment and supportive services for people with disabilities or disadvantages who seek greater independence.
Industry Leader
Goodwill Laundry & Linen Services is the area leader in healthcare linen services. We serve in many different healthcare settings, including:
Major Hospital Systems
Specialty Hospitals
Clinic Systems
Multi-specialty Clinics
Ambulatory Surgery Centers
Sleep Centers
Assisted Living Facilities
Nursing Homes
Rehabilitation Hospitals
Long-term Care Facilities
Outpatient Rehabilitation Centers
Cancer Centers
HLAC Accredited
Goodwill Laundry & Linen Services is HLAC accredited. This dedication to quality and processes helps ensure the highest quality of linen service available with the added benefit of continuous improvement initiatives. HLAC's standards cover the complete textile processing cycle, from handling and transporting soiled healthcare textiles, to in-plant processing and delivery back to the customer. The standards also cover many basic considerations, such as facility layout, personnel training and customer service. Special attention has been directed to laundry processes directly related to patient safety and OSHA required practices, including Bloodborne Pathogen Exposure Control Standards.
Competitively Priced
We know that each customer has unique needs, so we will work with you to find the best solution. Added fees and ancillary costs are common practices in the industry, but Goodwill's straightforward, competitive pricing structure includes no added fees or ancillary costs.
Our People
Our team is a tenured, dedicated group of people with a commitment to our partners and the patients they serve. Serving our customers since 1974, our years of experience have shown us that our work plays a critical role in keeping operations moving at the hospitals and clinics we serve, and our team takes that responsibility seriously.